The Network Services Gateway 9000-40G is the latest generation of the Harmonic ultra dense Universal EdgeQAM system, capable of reaching up to 648 QAM RF outputs per unit. The device is designed as a highly integrated digital video gateway which multiplexes on-demand content streamed over an IP network.
The NSG 9000-40G was engineered for scalability, and is capable of growing in QAM density from 8 to 648 QAMs per unit. In addition to providing unparalleled output density, the NSG 9000-40G is designed to support a variety of applications including Video on Demand (VOD), Switched Digital Video (SDV), Broadcast, Modular Cable Modem Termination System (M-CMTS) and Direct to Edge (D2E) for Cable IPTV.
High-density, modular 2-RU system supporting up to 44 Gbps input and 648 QAMs
Hot swappable QAM RF modules with 2 RF ports capable of outputting up to 36 QAM channels spread flexibly over the spectrum
Variable Equalizer for advanced RF power control
Controlled via the Mass Configuration Tool (MCT), an HTTP web GUI or Command Line Interface (CLI)
Motorola Privacy Mode support
DOCSIS 3.0 ready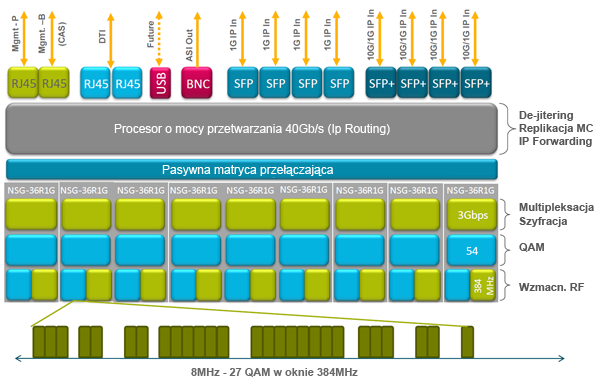 The NSG 9000-40G is housed in a modular, 2-RU chassis, and performs PID filtering, multiplexing, scrambling, QAM modulation, and RF amplification for up to 648 MPEG transport streams simultaneously. The NSG accepts digital MPEG input through its gigabit Ethernet (GbE) ports or 10 GbE SFP+ ports, then directs the video or data to different QAMs to create the outgoing transport streams as QAM-RF output signals. The NSG 9000-40G is also designed to meet the DOCSIS 3.0 M-CMTS requirements for downstream data transmission.
The main processing module features four 1 GbE SPF cages as well as four SFP+ cages supporting 10 GbE links. The 10G interfaces are also operable in 1 GbE compatibility mode using regular SFPs. This allows a smooth transition between 1G networks and 10G networks, enabling an "upgrade as you grow" model to retain current investment in networking gear. The processing module includes two 10/100 Base-T ports for management and conditional access networks. In addition, this module supports two DOCSIS Timing Interface (DTI) ports, for
synchronizing timing in an M-CMTS application. An on-board ASI monitoring port is used to monitor the transport streams within the system with an MPEG analyzer. Designed for ease of operation, the NSG 9000-40G QAM RF modules and power supplies are hotswappable, allowing for flexible enhancement of system density without service downtime. The device cooling fans are contained in a detachable front bezel which snaps on the chassis, allowing field replacement.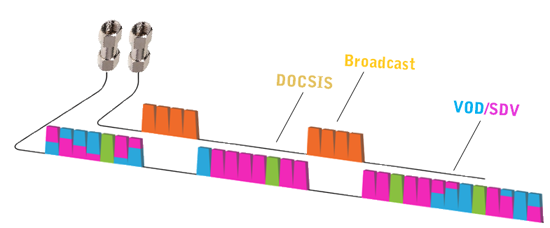 NSG 9000-40G offers several methods of configuration and monitoring. The device uses an LCD and keypad for the initial networking configuration, and includes an intuitive web interface, a command line interface (CLI) and SNMP MIBs for integration to network monitoring systems. In order to facilitate the simultaneous configuration of a large number of NSG devices, Harmonic offers a spreadsheet-based Mass Configuration Tool (MCT). This tool also allows users to perform firmware upgrades and remote configuration as well as backup and restore for multiple devices.

Ultra High Density – By scaling up to 36 QAMs per port, NSG 9000-40G helps untangle the HFC combining network. Using fewer RF ports to reach a laser transmitter, the NSG helps to realize savings in rack space, cabling, labor, cooling, power consumption and more.
Frequency Agility – Using new Fast DAC technology, NSG not only supports ultra-dense QAM capacity but can also spread the QAMs across the spectrum. This eases HFC plant planning as new projects do not need to factor lengthy and expensive spectrum shifting to accommodate new blocks of QAMs.
Software-based RF Leveling – With the advanced RF power features of Variable Equalizer and QAM attenuators, users can tilt the spectral QAM output of a port, or attenuate individual QAMs within a port to achieve what previously required physical attenuators and manual HFC combining labor.
EQAM Virtualization – NSG 9000-40G supports a new software feature that allows partitioning of the physical device to multiple virtual devices. Each virtual device appears as an EQAM to the back office SRM or ERM, allowing quick integration with legacy systems as well as new back office systems.
Advanced Troubleshooting – NSG includes many troubleshooting features that allow traffic analysis in complex environments such as SDV or VOD. With built-in wireshark captures, Syslog server reporting, alarm configuration, ASI output, GbE port forwarding and more, the root cause of a system failure can be traced quickly and efficiently.
Modular Design – The NSG 9000-40G platform features hot-swappable RF-QAM modules
and power supplies, a retrievable processing module and detachable front panel. This makes it easier to stock spare parts and apply them quickly in case of a failure, minimizing outage time.
Security – The NSG 9000 is based on Linux kernel and incorporates an integral configurable firewall to protect the device from unauthorized or offensive traffic. Augmented by secure HTTPS and SSH, the NSG provides a secure and flexible means of management while MSOs are transitioning to modern IT environments.